I'm back again with my blogging friends, and I am sharing another classroom idea that you oughta know about. Being the tech-loving teacher that I am, I am going to share a great program called Read With Me.
I like Read With Me first of all because it has helped me eliminate this: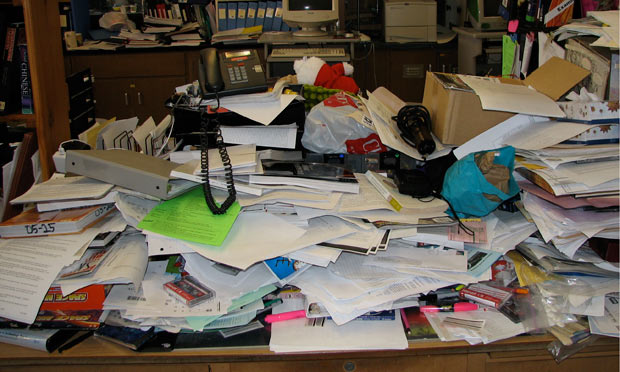 Yea…pretty bad.
That's not my desk by the way.
Another reason that I like Read With Me is that it can be used on a computer or on an iPad or BOTH! Sometimes when tech tips are shared, they tend to be geared towards electronic devices. But unfortunately a lot of teachers don't have access to iPads are smart devices. Most teachers
do
have a desktop or laptop computer though. THat's all you need to use Read With Me.
Read With Me is a tool that you can use to track your students' fluency. As a first grade teacher, this is something that is so important. Most teachers probably print out the passages and the scoring sheets to go along with it. Read With Me allows you to do most if not all of the reading and scoring digitally.
The one thing that I discovered is that using Read With Me on the web is free but the Read With Me app is $4.99. There are more features with the app like the ability to have your students record themselves reading the passage. This is perfect for parent-teacher conferences, student-led conference, and also when it comes to referring students that you might have concerns about regarding their reading ability. IT also proves to be a valuable self-assessment tool.
So how do I use Read With Me? Well to be honest, I use Read With Me a little bit differently than described on their website and app. I bought the app and I use the online version as well. First I set up my class on the website. I create one special profile for testing. In this profile, I can set up all of my passages. Another great thing is that you can use the passages they provide or you can insert your own.
I love that.
Once I set up the details of the passage, a special token is created. I typically create three different passages for my low, medium, and high students. In my Read to Self center, I have my students' names written down on a card with the token for the passage that they are supposed to read.
Can you say differentiation?
My students then use the Read With Me app to record themselves reading their passage. There are two iPads that are specifically designated for the app. I do this because they have to record themselves reading the passage and it would be a pain if they chose any of our eleven iPads to record on…trust me…it wouldn't only make me cry. Anywho, they are able to record themselves while they read the passage. I use the one-minute timer since it correlates with what they have to do for DIBELS testing.
Later, I use the iPad that the student used to read the passage and another iPad to score their miscues. I save this in their profile and I have their online reading record. From this I can conference with the student to discuss strategies to improve fluency. And if nothing else, it gives the students a visual and auditory view of their own reading. Students could use a
fluency checklist
after recording themselves to further critique their fluency.
Now the "correct" way to use the app is to have the student read the passage while the teacher scores it. This can be done using two iPads, one iPad, or just the computer. During our Fluency Fridays, I print out the passage and have the students read while I score on the iPad. Usually, though, my kids use Read With Me as I have described it above.
So what do you think? Is this something that you could use in the classroom? What would the pros and cons be? Leave me a comment below. I want to hear from you.